SHOSHIN RYU
CHILDREN'S CLASS
The Class
Shoshin Ryu children's martial arts classes include Nage (throws), Newaza (ground techniques), Atemi (strikes), Goshinjutsu (self defense) and Buki Keiko (weapons).
Shoshin Ryu Kokoro Series emphasize personal growth and character development that will instill discipline and focus that can follow a student in all aspects of their life.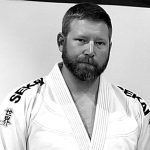 Sensei Matt Nye
Matt Nye is an instructor at Shoshin Ryu Chantilly with over 30 years of martial arts experience and a focus on throwing and grappling. He holds black belts in Shoshin Ryu, Budoshin Jujitsu, and Jukido Jujitsu and has also studied Tae Kwon Do, Kenpo, Kokondo Karate, and Brazilian Jiu-jitsu.
TESTIMONIALS
WHAT PEOPLE ARE SAYING
"My kids love their time with Sensei Hollowell. He is not only a dedicated, patient teacher for children, but an all around good mentor and role model. We chose him and Shoshin Ryu MA because he allows my kids to move at their pace without some of the pressure seen in other dojos. Sensei is committed to the success of our whole family too. He supports my kids in all their goals. He models and guides them in positive thinking, patience, and hard work. He has organized a dojo fun run, women's self defense classes, and ninja warrior workshops. He practices what he preaches and auditioned for American Ninja Warrior too! He keeps things fun too, like costumes on Halloween as pictured. He supports a positive, healthy life by coming to my kids' theater performance and even joined us to celebrate their little sibling's birth at a party. We love learning from Sensei Hollowell!" -Amanda Ondricek
"My son has been training at Shoshin Ryu Martial Arts in Chantilly for several years now. Hollowell Sensei is a great teacher, especially for young children. He is very kind and patient and cares students very well. The style of this martial arts is well mixed, and I see some forms of Judo/Jujutsu, Aikido, Karate/Kempo, and etc. They also teach a lot of self-defense and internal (mind) strength and it's very good for children, also for adults." -Ted
"As a lifelong martial arts enthusiast, I want my children to develop the passion, discipline, and self-confidence that I've come to appreciate. We tried a few places in the area, but Sho Shin Ryu stood out and we've been training here for the past year. Hollowell-Sensei is a wonderful teacher, patient with the kids, knowledgeable in his art, dedicated to teaching, and well-rounded in physical aspects. I've tried many different styles of martial arts, but what I like about Sho Shin Ryu and Hollowell-sensei is it is more than sport Japanese "karate". They incorporate practical self-defense while building on firm, functional foundations like stances and movement skills. I hope to see this studio grow and build strong, resilient, confident martial artists!" -Aleah Larson